Hey, Thanks for stopping by!
At BTC Youth we want to explore what it means to have a REAL personal FAITH and how we can practically live that out in REAL LIFE from day to day.
We want our young people to explore and discover what a relationship with Jesus looks like for themselves, questioning is encouraged!
We also have a Friday Night Live event, full of fun but with engaging teaching suitable for bringing friends!
Young Life
Space for young people to share what life is like for them, allowing time to encourage and pray together. We also have time to discuss various topics like relationships, friendships, anxiety & questions like: "How do we know God is real?" and "Is the Bible reliable?".
We meet in two age groups:
YoungLife Sundays : For ages 11-14 (years 7-9)
Meeting Bi weekly on a Sunday morning at approx 10.30am, during the Sunday morning service.
YoungLife Midweek : For ages 15-18 (Years 10 & over)
Check back in the new year for what's happening in 2023.
FRIDAY NIGHT LIVE
It's a vibe… chill zone, gaming, photo booth, games, challenges, sugar & some teaching from the BTC Youth team. Bring a mate.
Bi- Monthly, for anyone 11+
Dates!
YoungLife Sundays (years 7-9)
Nov 13th || Nov 27th
YoungLife Midweek ( year 10 plus)
TBA
Friday Night Live:
Dec 16th - Christmas
Next Up...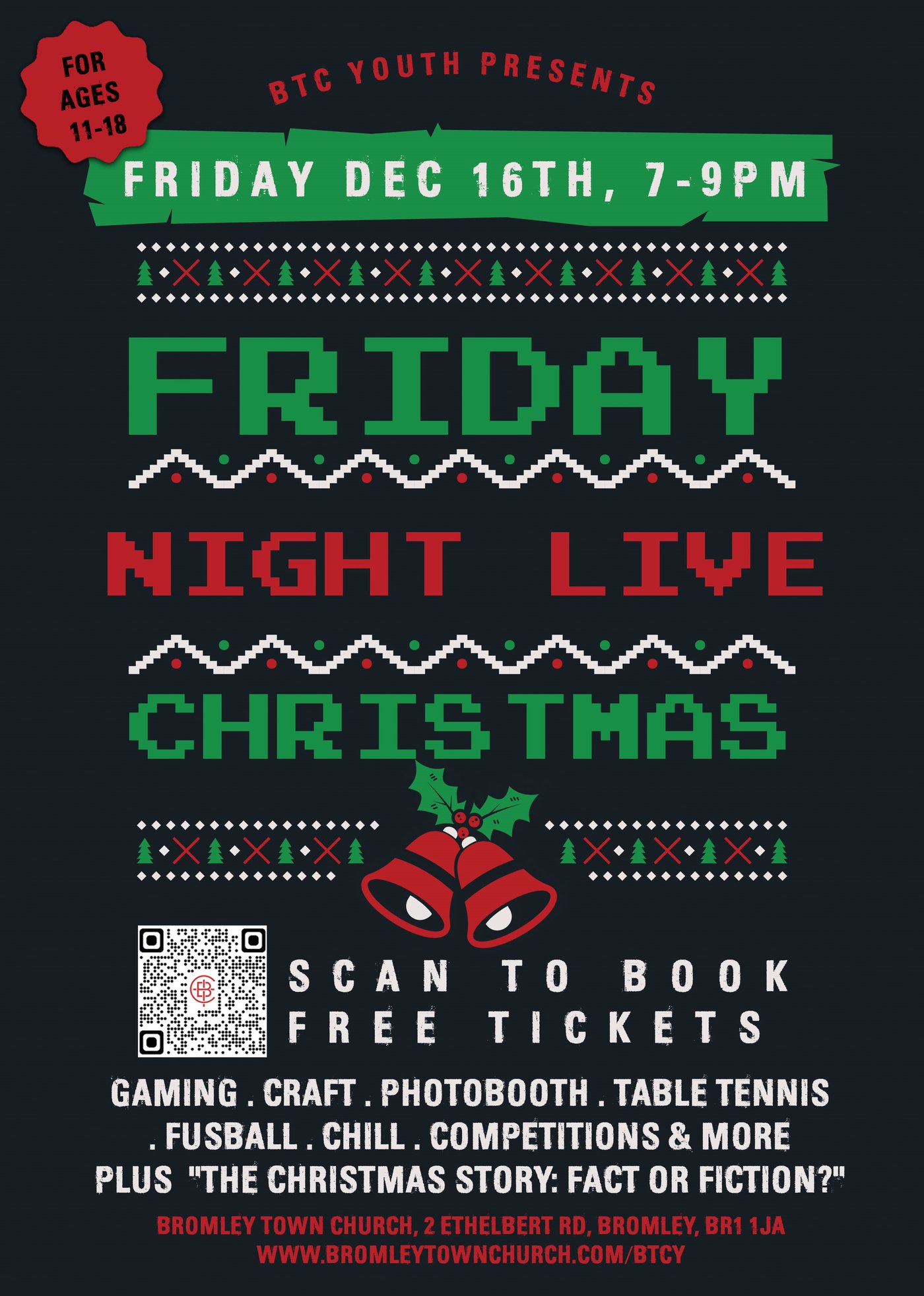 Friday Night Live Christmas! For all in Youth aged 11 and above.
Invite your friends and book your Free tickets below.
Safety Info
All our youth & children's workers are DBS checked and have taken part in safeguarding training.
We use a Youth WhatsApp group to communicate with our young people (with parents permission) and this is monitored by youth leaders. We regularly communicate with parents via a WhatsApp group and via email.
Risk assessments for our youth events are available to view upon request.
Got questions?
If you need any more information please click on "Contact Us" and one of the Youth Team will get in touch.