Sunday 10th - Saturday 23rd January
We have set aside this two week period of renewal to help us in our walk with God during this year.
Reading the Word, fasting and extending our normal times to pray are all ways in which our faith is deepened, our dependence on Him increased and our love for the Lord renewed.
How you can participate:
Follow the reading plan below through the Gospel of Matthew and Psalms 1 - 70, to be read alone or with your household group.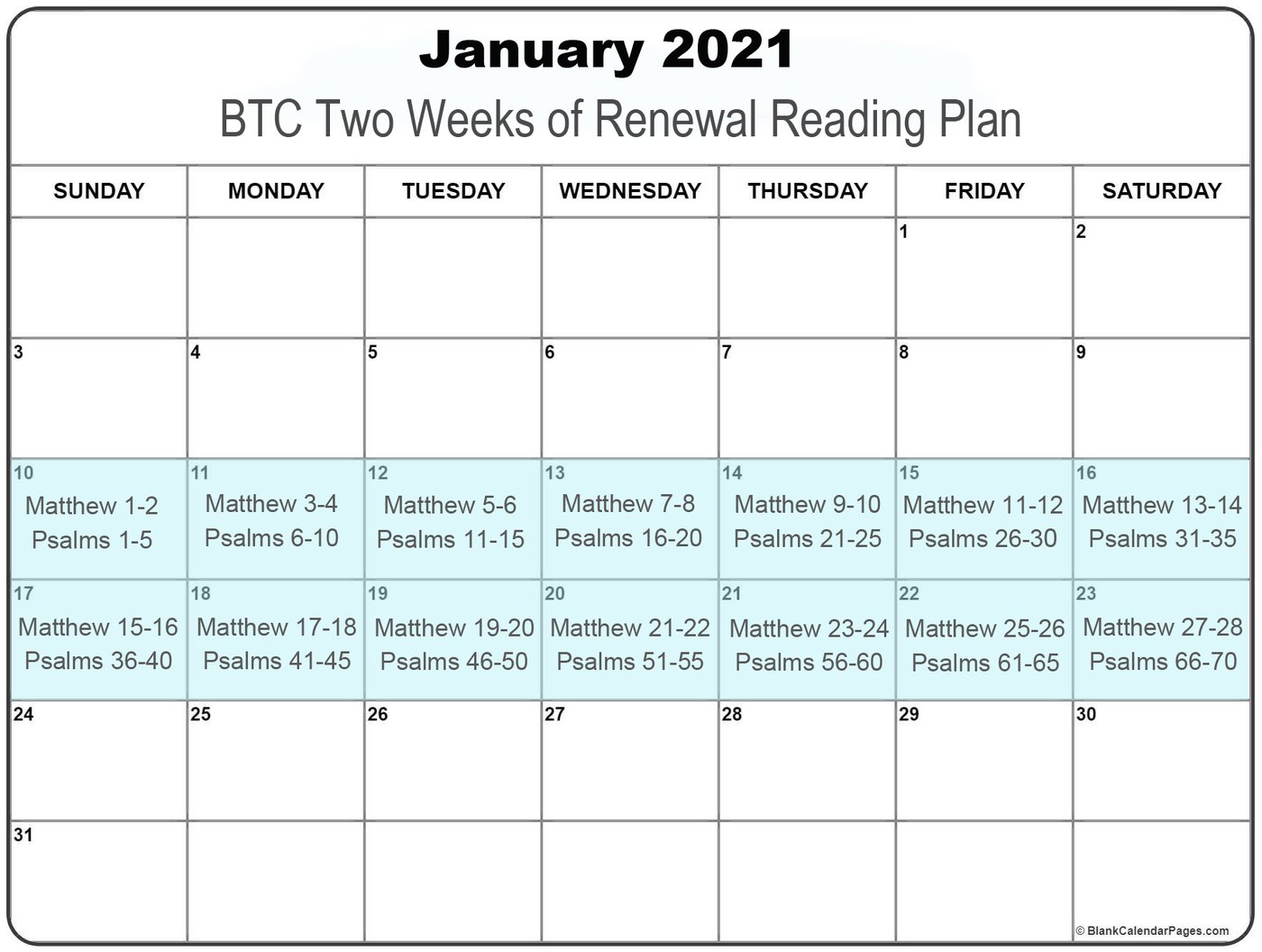 Evening Bible Reading Sessions on Zoom with Pastor Jonathan and Pastor William.
Tuesday - Thursday evenings during both weeks are an opportunity to read the Bible with others via Zoom. Starting at 8pm for about 30 minutes each session. Just email [email protected] by 3pm on the day for the login details.
Week of Prayer & Fasting: 17th - 23rd January
Commencing Sunday 17th January - Set aside this week to try and spend a little more time to pray than you normally would. Where family situations and dynamics make this tricky, ask God to help you in finding some time to spend with Him alone.
The Bible encourages us to fast and pray. You may wish to participate in a Daniel-type fast of fruit and vegetables, or fast from food altogether for a time. It may be that you decide to limit your use of your mobile phones and social media to essential calls and messaging only for this week. In which ever way we can, let's all do this wholeheartedly and commit ourselves to God's will for us and our Church.
24 Hours of Prayer
To conclude the two weeks of renewal, please join us for one hour, or as many as you can, to pray from 8pm on Friday 22nd - 8pm on Saturday 23rd January. We invite you to commit to one hour or as many as you are able.
There will also be three one-hour slots where you can pray with others on Zoom if you wish to. These are from 8pm on Friday 22nd, Noon on Saturday and 7pm on Saturday 23rd January. Please CLICK HERE to join.
We pray that you will indeed be blessed, strengthened and renewed during these important two weeks.